Let's face it, when you own a dog, one of the biggest issues you have to deal with is cleaning up after they shed all that hair. Well, we've been in this game long enough to know which pet hair vacuum to recommend. So in Part I of this series, we're going to review one of our favorites, the Black and Decker 1410L:
With a price tag of $59.88 and a an impressive 4 ½ star rating on Amazon, this hand-held vacuum is sure to impress customers. It is designed to reach those stubborn crevices in your home where all of the bread crumbs end up and no other machine dares to venture. With this devices enhanced features and stellar reviews, it's easy to see why this hand-held remains the #1 Best Seller of its class.
Pros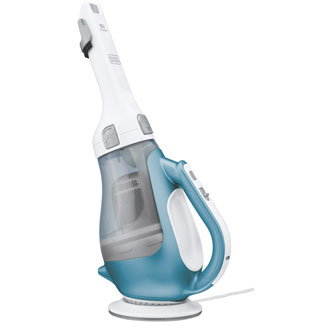 The Black & Decker CHV1410L Dust Buster weighs just under 4 pounds, making vacuuming a breeze. As an added precaution, power tools are formatted to fit snugly in the body of the vac. The machine is cordless and offers smart charge technology, promising that the battery life won't suffer loss over the years. In addition to it's weight and charging capabilities, the small vac also boasts 50% increase in reach, strong suction and efficient power. These added features allow for quick, easy cleaning without the aches and pains.
Cons
Due to the vacuums cordless capabilities it must be charged on a dock. Customers have complained that the charging port shines a bit too brightly; you may want to keep vacuum in a separate room if bright light bothers you. This hand-held is very powerful and can be quite loud during operation.
Overall
The CHV1410L is a reasonably priced, powerful machine that promises to retain it's quality over time.
With very few product flaws, this vacuum is one of the best hand-held cleaning tools on the market. It offers easy-reach technology and a lot of power along with a two year limited warranty.